As part of Barry Plant's partnership with the Pat Cronin Foundation, Barry Plant offices liaise with local community schools and sporting groups to provide the opportunity for young people to hear the tragic Pat Cronin story and be educated on the potentially drastic consequences of violence, and in particular the deadly "coward punch".
Recently, The Basin Football Club invited the Pat Cronin Foundation to provide a session for their Under 15 to Under 19 teams. The evening was organised by Barry Plant Boronia, who have strong ties to both the club and the Pat Cronin Foundation.
The players listened intently the whole time as they heard the story of the tragedy that had inspired the Pat Cronin Foundation, heard about the potential life-changing consequences of violence, and learned tools to help diffuse volatile situations should they find themselves in a threatening situation.
Barry Plant Boronia Director, Mark Schroeder, was really satisfied with the evening.  "I have never seen a room of boys so quiet.  The session was quite confronting and the lessons will remain with these young boys for a long time, which is what we wanted to achieve. If we save one person from serious injury or death with this session, then that's an amazing result."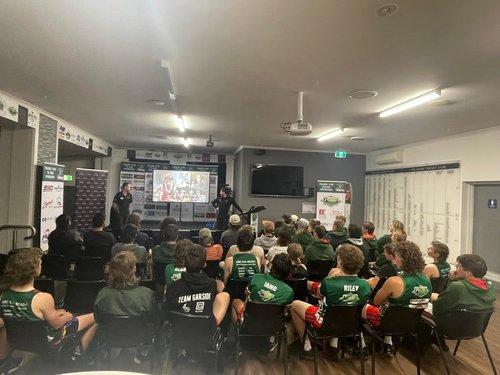 Barry Plant Boronia team members also attended the session and were all deeply affected by the message, vowing to share it with their family and friends.
The flow on effects of sessions like these are profound.  It's not just the attendees who gain life lessons, but they'll share them with their siblings and friends.
If you would like to have a Pat Cronin Foundation session at your local sporting group or school, contact your local Barry Plant office to see if it can be arranged.