A suburban gem at the foothills of the Dandenong Ranges has seen its house prices soar over five years.
In Emerald, the median house price has jumped nearly 40 per cent to $995,000 since 2018, according to Domain data.
The sparkling growth is the result of a "supercharged COVID price cycle" driven by buyers moving from inner-city suburbs to Melbourne's outer fringe during the pandemic.
Emerald boomed during COVID as people escaped the city to seek a relaxed lifestyle in the hills, according to Barry Plant Emerald agent Gayle Barrot.
"They began to work from home, either full-time or a few days a week," she said.
"As they didn't want to be stuck in a small inner-city dwelling, they chose to live in a bigger home in the outer suburbs as they didn't have to travel to the office every day."
Ms Barrot said there was an influx of city buyers who snapped up homes in Emerald while in lockdown via online video presentations.
"They couldn't do the lockdown in a box," she said.
"And the homes in Emerald offered them all the space they needed."
With bushwalking tracks and scenic drives at their doorstep, residents enjoy a tranquil lifestyle with easy access to good schools, sports facilities, cafes, boutique shops and restaurants.
The suburb is renowned for the Emerald Lake Precinct, which includes Emerald Lake Park and Nobelius Heritage Park, with beautiful gardens, picnic areas, lakes and bush tracks.
"People here enjoy a peaceful holistic lifestyle, yet are not too far away from everything," Ms Barrot said.
"We are a tight-knit community that offers support when it's needed."
The market in Emerald was buoyant, with quick sales and strong interest from local buyers or those from nearby suburbs wanting to stay in the region, according to Barry Plant Emerald agent Brittany Barry.
Ms Barry pointed to the four-bedroom house on 2031sq m at 18 Ronald Road, that lasted only two weeks on the market before it sold to a young family from Harkaway for $937,000.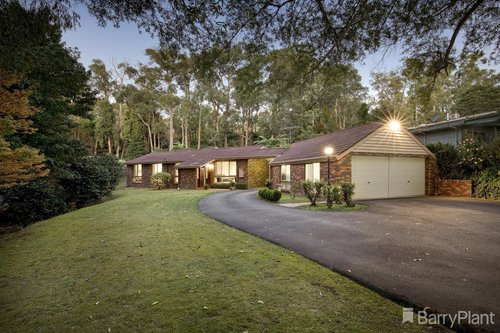 There was massive interest from multiple buyers, and we received six written offers," she said.
"It sold after two opens and private inspections."
In original condition, the house has multiple living spaces with leafy outlooks and the bonus of a separate home office attached to the garage.
It sprawls on a large block teeming with birdlife, within walking distance of the high school, and a short drive to town and Belgrave train station.
And a young family from Endeavour Hills snapped up a four-bedroom house on 1055sq m at 16 Cloverleigh Avenue, for $935,000.
"This property was also sold after only a fortnight on the market," Ms Barry said.
"This seems to be the current time frame for most homes in the area."
Located in a quiet cul-de-sac near Emerald Lake Park, the custom-designed house sits on an elevated position with a stunning panorama of vibrant rolling hills.
The ideal lifestyle property features an in-built playground, lavish indoor and outdoor entertainment zones, and a large studio, ideal for a home business or teenager's retreat.
Catching the eye of luxury homebuyers, a four-bedroom showpiece on 2682sqm at 24 Elm Crescent, is priced at $1.45-$1.595 million.
Offering peace, privacy and perfect views over rolling valleys towards the Warburton Ranges, the elevated property displays beautifully terraced gardens.