Melbourne's outer northern fringe is poised for a property boom as prices skyrocket.
The population in the Mitchell Shire suburbs of Beveridge, Kilmore and Wallan, is expected to grow four times in the next two decades, according to the Hotspotting Exodus to Affordable Lifestyle report.
And as demand for housing intensifies, median house prices will soar, said Hotspotting's Terry Ryder, as reported in the Herald Sun.
In Beveridge, prices jumped a whopping 31 per cent in the past 12 months to $640,000, rose 18 per cent to $570,000 in Wallan, and gained 14 per cent in Kilmore to reach $572,000.
As median house prices are substantially lower than in Melbourne where the median price is $1.038 million, Mitchell Shire offered affordability and value, Mr Ryder said.
First-home buyers and young families priced out of Melbourne were looking at homes in Beveridge, Barry Plant Mitchell Shire agent Sarah Fraser said.
"Suburbs in the northern corridor like Epping, Craigieburn and Roxburgh Park are now getting too expensive," she said.
"And Beveridge is a new and growing area with affordable modern homes on bigger blocks."
The town, located a commutable 55km from Melbourne, also attracted buyers who were looking for a lifestyle change and who were now able to work remotely.
Contemporary three and four-bedroom single-storey houses on 400-600sq m blocks priced from $500,000 to $700,000 were in hot demand and changed hands quickly.
"On average they sold within one week to three weeks of listing," Ms Fraser said.
A four-bedroom house at 8 Belleview Crescent lasted two weeks on the market before it sold to a Melbourne buyer for $650,000.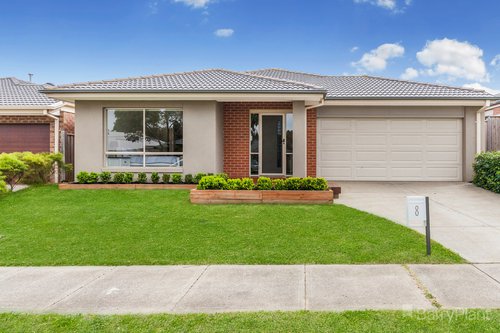 A first-home buyer from the city, who missed out on the home, then snapped up a three-bedroom house at 51 Palladium Circle in an off-market sale for $600,000.
"We didn't even advertise the property," Ms Fraser said.
"Both homes are in the Mandalay Estate and were well-presented, and sold above the sellers' asking prices."
The Mandalay Estate is the town's largest and most established residential area and is highly sought-after, according to Ms Fraser.
The self-contained estate offers residents access to parks, tennis courts, childcare and community centres, a primary school and a clubhouse.
Most properties in Beveridge are bought via private sale, but there has been a recent shift to auctions because of a lack of stock, a surplus of buyers and strong competition, according to Ms Fraser.
Mr Ryder said Beveridge would continue to experience the biggest growth in the shire as the population was expected to increase to 72,000 by 2041, according to data from the Australian Bureau of Statistics.
The town has new housing and infrastructure developments in place and employment opportunities including jobs in the freight and agricultural industries.
Ms Fraser expected prices to settle down in the next few months, as more homes hit the market and interest rates rise.
"However, Beveridge will experience less of a shift in the market compared to Melbourne, where it is slowly flattening," she said.