Buyers in search of the peaceful country lifestyle are flocking to the Yarra Valley.
The region in the city's outskirts is a magnet for all types of buyers, from those starting up to those winding down, according to Barry Plant Woori Yallock director Jenny Webb.
The agency covers a large area from Seville to Powelltown, including townships along the Warburton Highway side of the Yarra Valley.
Part of the Yarra Ranges Council, the area is coveted for its relaxed setting and stunning views, Ms Webb said.
"This is a very picturesque place with beautiful rural outlooks and its popularity has soared in the past 12 months," she said.
"It is attracting buyers wanting to live full-time here, those looking for weekenders, and people who are now working from home and flexible with their choices."
Some are from the city and outer eastern suburbs, while many who have grown up in the Yarra Valley want to stay in the area.
"Generations of the same family continue to live here because they love it so much," Ms Webb said.
In Woori Yallock, a three-bedroom house on approximately 611sq m with stunning views at 48 Carroll Street attracted offers from first-home buyers and downsizers, and sold to a buyer from the outer eastern suburbs for $700,000.
"This property with a beautiful view towards farmland and hills was on the market for around six days, and sold above expectations," Ms Webb said.
The rising demand for a short supply of homes is pumping up prices across the region, with the median house price in Woori Yallock rising 10 per cent in the past 12 months to $620,000.
Identified as a high-demand market by realestate.com.au, Woori Yallock attracts buyers seeking affordability and value.
Near the Warburton Trail, a cute two-bedroom house on approximately 608sq m at 19 Sally Court, Woori Yallock, attracted multiple offers and sold above expectations for $645,000.
"Interest came predominantly from first-home buyers," Ms Webb said.
Millgrove, with a median price of $485,000, is one of the more affordable suburbs in the Yarra Valley, according to Ms Webb.
"It offers good opportunities for first-home buyers, those working from home, and buyers wanting a lifestyle change," she said.
The interest from 'high-intent buyers' has soared 123.37 per cent in Millgrove in the past 12 months, according to realestate.com.au.
Also described as a high-demand market, Launching Place has seen a whopping 18.9 per cent rise in median house price to $695,000.
"Launching Place is popular with upsizers and growing families looking for larger half-acre properties with space for a shed," Ms Webb said.
Rural retreats and acreages are also in hot demand by families, horse enthusiasts or hobby farmers.
In Hoddles Creek, a three-bedroom Fasham Johnson architect-designed house on approximately 1.4ha at 175 Thonemans Road generated a high level of interest from buyers in inner and outer Melbourne suburbs.
"We had strong enquiry for this property, which sold for an undisclosed price," Ms Webb said.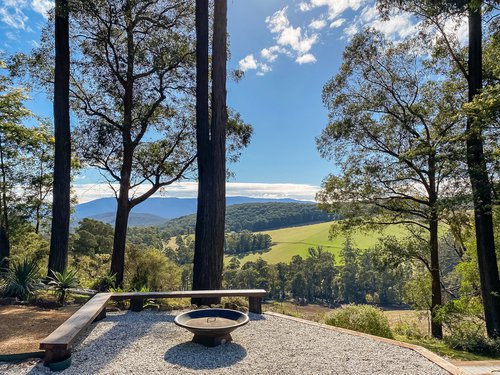 The country haven with a resort feel has a stunning outlook and delightful outdoor entertainment spaces.
Also in Hoddles Creek, an approximately 40.89ha farmlet named Sunset Ridge at 440 Jameson Road, attracted good interest and sold to a family from the outer eastern suburbs for $1.525 million.
The five-bedroom builder's own home with a self-contained cottage is set on a magnificent parcel of land with pasture and treed areas, abundant wildlife, a horse menage, sheds, cattle yards and a chicken run.
The Yarra Valley is within a reasonable distance of Melbourne and offers the best of both worlds, according to Ms Webb.
"When a new property comes on the market, a good level of interest is expected," she said. "Homeowners are pleased at the way the market is progressing."