Live virtual home inspections plus plenty of follow-up work with buyers have resulted in stunning online auction results across Melbourne.
With auction numbers severely impacted by the ban on on-site inspections, sellers who carried on with their auctions were handsomely rewarded as the winter market came to a close.
Among the top results were three properties that attracted scores of bidders, including two that sold for several hundreds of thousands above their reserve.
At 35 Stockwell Crescent, Keilor Downs (pictured above), Barry Plant Taylors Lakes organised two virtual inspections online with 81 groups attending.
The property had been listed just three days before Lockdown 6 and had four on-site inspections.
The 11am auction on August 27 drew 27 registered buyers, with the vendors setting a high reserve price of $950,000.
"Two of the buyers had inspected the house while eight others had not," agency director Jim Hatzimoisis said.
"The opening bid of $825,000 got things rolling and 41 bids later the home sold for a very satisfying $1.155 million, more than $200,000 above reserve."
The resort-style home with a pool and a bonus studio attracted family buyers looking to upgrade.
"The world has changed … the present circumstances have forced buyers to make virtual inspections and to purchase without a physical look," Mr Hatzimosis said.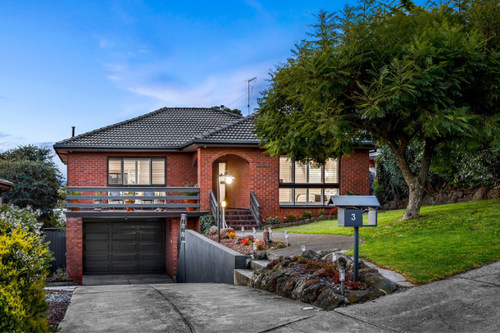 Meanwhile, Barry Plant Moonee Valley agents have been fielding calls from homeowners after securing strong sales for their clients during lockdown.
"Buyers wanted to know how we could achieve this when buyers haven't been allowed to visit properties," agency director Bill Karp said.
He cited the August 28 auction sale of 3 Brian Court, Niddrie (pictured above), as an example of what was possible.
It was listed just prior to lockdown and had a few physical inspections but enquiry levels remained strong till auction day.
Ten registered bidders took part in the auction that lasted 50 minutes before it sold for $1.702 million, which was 21 per cent or more than $300,000 above the reserve price set by the seller.
"Results like these are keeping our team busy and they've also been active conducting one-on-one virtual meetings with lots of frustrated buyers and organising virtual inspections," Mr Karp added.
Over in Grovedale, Geelong, an online auction smashed the price expectations of the vendor of 12 Church Street (pictured above).
The entry-level property with three bedrooms attracted eight bidders who pushed the price up to $721,000 or $121,000 above seller's reserve.
Barry Plant Highton had 20 buyers registered to take part, with eight managing to make bids.