Perfectly placed between the Melbourne CBD and Geelong, it has seen tremendous growth in housing, infrastructure and population, and is often touted as among Victoria's fastest-growing areas.
Sitting 32km southwest of the city, Werribee has grown and expanded from its early start as pastoral leases and centred around a river that flows to Port Phillip Bay.
Its agricultural origins have seen it change to an increasingly middle class and aspirational suburb with a younger and mobile population.
In the 2016 census, the population was recorded at just above 40,000.
Werribee and nearby suburbs that share the same postcode within the City of Wyndham, such as Point Cook, Werribee South, Derrimut, Quandong and Cocoroc, are among Melbourne's most multicultural regions. As many as 150 nations are represented by the residents according to some surveys.
Homes for every type of buyer
Werribee residents include long-established families attracted by the affordable and spacious house blocks in the past.
New residents include young families, single professionals, recent migrants and first-home buyers drawn by attractive home prices and a suburb well served by shops, schools, transport and amenities.
"Werribee caters to all types of homebuyers, with entry-level properties starting at $400,000, while the prestige end of the market has houses priced up to $1.8 million," Barry Plant Werribee agent and auctioneer Reece Beckley said.
"This is one of the fastest-growing regions in Australia and many new estates with house and land packages are popular."
While affordability and proximity to the city, Geelong and the Surf Coast are major attractions, the area is a "major growth area with a good train and road network and a city centre that is being redeveloped", Mr Beckley added.
The agency sold a string of Werribee homes at the end of 2021 for buyer-friendly prices of less than $600,000.
These included three-bedroom houses at 4 Glamorgan Avenue for $510,000 and 23 Scotsburn Grove for $561,500 and a four-bedroom house at 5 Thrush Court for $580,000.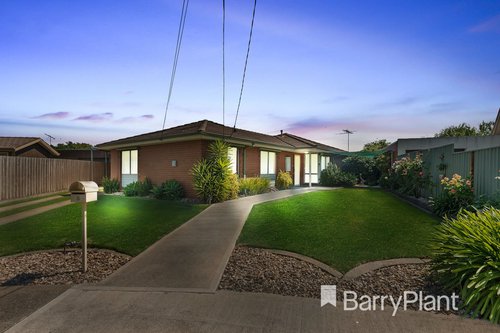 And in the sought-after Westleigh Gardens estate, 45 Hopetoun Road fetched $970,000 under the hammer to set a new benchmark price for a three-bedroom house in the area.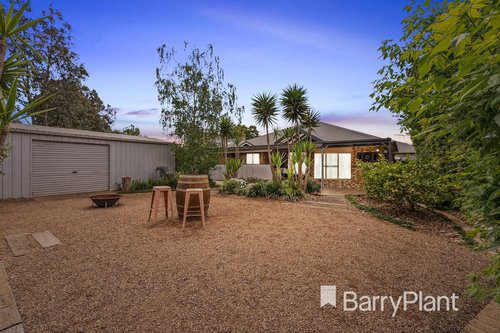 Attractive median home prices
Werribee had 294 properties for sale and 308 properties for rent on January 20, 2022, with a decline in listings from the previous month, according to realestate.com.au.
The suburb's median property price over the past year was $573,500 for houses and $405,000 for units.
For investors, Werribee houses can lease for $350 per week with an annual rental yield of 3.2 per cent, while the weekly rent of $310 for units has an annual yield of 4 per cent.
Based on five years of sales, the suburb recorded a compound growth rate of 8.7 per cent for houses and 5.6 per cent for units.
The volume of sales has declined in recent years with more residents staying long term. In 2013, there were 521 house sales with a median price of $303,000.
Sale volumes rose sharply by 2017 when there were 880 sales and a median price of $465,000. But in 2020, there were just 628 house sales and a median price of $519,000.
Offering something for every type of homebuyer or investor, the area's housing styles range from the period and classic family homes to modern units and townhouses.
From rural to a thriving suburb
The area's recent history dates to the 1850s as an agricultural settlement originally named Wyndham, which later changed to Werribee in 1904.
Among the pioneers was Thomas Chirnside who by 1863 controlled more than 280sq km around Werribee. The village grew, aided by a railway line from Melbourne to Geelong and a station was built in 1857.
Early landmarks include hotels, Werribee Racecourse and the Mechanics Institute while Chirnside's property was the site of Corpus Christi College, a seminary of the Catholic Church for Victoria and Tasmania.
Apart from being a bustling suburb from the development of greenfield sites and agricultural blocks, the area is also well-known for major tourist attractions such as Werribee Park, Victoria State Rose Gardens, Werribee Park Equestrian Centre and Werribee Open Range Zoo.
Water plays a major role in Werribee's appeal, whether it is the river and waterways that flow across the suburb or access to nearby beaches and the bay.
The suburb boasts plenty of family-friendly amenities, including the Werribee River Trail, Werribee Plaza, Pacific Werribee shops and cafes, plus the nearby Wyndham Cultural Centre.
Shopping, schools and universities
With more families and younger residents moving in, the suburb's network of schools and good road and rail links ensure there are many educational options in the suburb or nearby.
There are numerous public, private, Catholic and Christian schools for children of all ages.
The younger ones can choose from a wide range of primary schools, including Werribee, St Andrews, Corpus Christi, Glen Devon, Thomas Chirnside, Manorvale, Wyndham Park, Bethany Catholic and Westgrove.
For secondary education, there is a choice of Werribee Secondary, MacKillop Regional College, Heathdale Christian College and Suzanne Cory High School, among others.
The suburb is also home to a number of tertiary education providers, including Victoria University, University of Melbourne, University of Notre Dame and TAFE campuses in the Werribee Employment Precinct.
The suburb also serves as the administrative centre of the City of Wyndham and is its most populous suburb.
The main business area is around Watton Street and the civic centre is close by. Also nearby are market gardens, Mercy Hospital and a private medical centre with GP and specialist clinics, allied health professionals and mental health services.